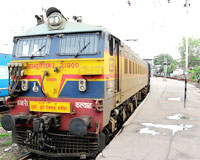 Lonavala is situated on the Sahyadri ranges in Maharashtra. Its location is almost midway, between Mumbai and Pune. Being on such an important route, traveling to the hill station is quite easy. Reaching Lonavala should not be a problem or an issue from anywhere in or nearby Maharashtra. This is because the place boasts of a very good network of roads as well as rails. If you are still thinking as to of how to reach the beautiful hill station Lonavala, this information given below should be useful.
By Air
Lonavala is located midway between two major cities of Maharashtra, Mumbai and Pune. Thus, if you are flying to Lonavala, you need to touch down at either the domestic airport at Pune (66 kilometers from Lonavala) or the international airport at Mumbai (110 kilometers from Lonavala) and from there, take a cab or a train.
By Rail
Lonavala is situated on the main railway line that plies from Mumbai to Pune. All trains that shuttle between the two cities stop here. From Mumbai, the approximate travel time would be around 3 hours, while from Pune it takes around 1 hour to reach Lonavala.
By Road
The drive along the Mumbai-Pune expressway is worth taking. The spectacular sights that lie on the way are simply astounding. The entire state is connected through a wide network of roads, which make it all the more easy to reach Lonavala.