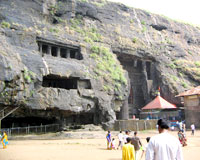 Lonavala is the place to be if you want to take a break from your hectic lifestyle. This gorgeous hill station, located in Sahyadri ranges, is known not just for its salubrious climate and scenic views, but also many tourist attractions. Though a small place, Lonavla has many sightseeing places that can be explored on a tour to this hill-station. Check out information on some of the most popular tourist attractions of Lonavala in the following lines.
Rajmachi Point
Located around 6.5 kilometers from Lonavala, the Rajmachi Point gives a spectacular view of Rajmachi Fort, which once belonged to Shivaji. One can also get a panoramic view of the valley that surrounds it. This place is a must visit when you come to Lonavala.
Ryewood Park and Shivaji Udyan
Another prime attraction of Lonavala, Ryewood Park and Shivaji Udyan are beautiful gardens that have perfectly manicured grass, tall trees, beautiful flowers and lot of place to sit around and relax. If you are coming with your family, this place will be ideal for you to visit. You can also explore the ancient Shiva temple that is located in the premises here.
Tungarli Lake
The Tungarli Lake is a beautiful lake that looks crystal clear during the monsoons. This lake basically provides water to the residents of Lonavala. It provides much peace and serenity to all those who long to take a break from the fast city life and spend time with nature.
Valvan Dam
The Valvan Dam is another important tourist attraction here. The catchment area of the dam has been converted into a lovely picnic spot with a beautiful garden. The dam basically provides water to the Khopoli power station, in order to generate electricity.
Lonavla Lake
Yet another beautiful lake, Lonavala Lake is the place to be if you are looking for peace and beauty. The lake is surrounded by natural beauty and you can see nature at its best, over here. Though it parches up in summers, the lake comes to life during monsoons and remains so throughout winters.
Karla Caves
The Karla caves are important historic Buddhist sites that were built around 2-3rd century BC. The cave shrines are popular among all tourists and are visited by everyone who come to Lonavala.
Lohagad Fort
The Lohagad Fort of Lonavala was the battleground of the Maratha warrior, Shivaji. From here, you can get a lovely view of the lush green surrounding hills and the steep valleys.
Bhushi Dam
This is definitely one of the most exciting sites to visit in Lonavala. This dam has a beautiful waterfall in the vicinity, which is a must see. The surrounding area of the dam has been developed into a beautiful catchment area for tourists to enjoy.